Cullman Area Rural Transportation System (C.A.R.T.S.)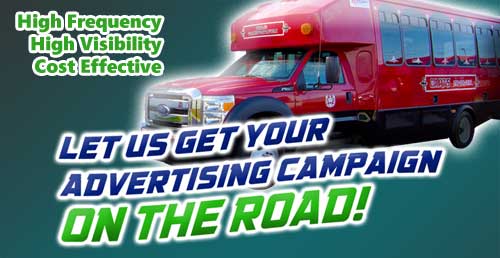 Cullman Area Rural Transportation System (CARTS) is a Rural Public Transportation Provider for Cullman County, Alabama. The CARTS fleet is comprised of 37 vehicles ranging in size from a standard van to a 30 passenger bus.
This month we are featuring:
Keller Williams Realtor - Lesia Van Gundy
Click images to enlarge...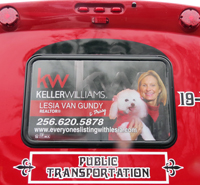 Contact CARTS
Office Hours
6:30am - 4pm, Monday through Friday (except holidays)
Ride reservations can be made 6:30am - 2:30pm, Monday through Friday
Reservations must be made by 2:30pm the previous business day. None made after 2:30pm.
Address
CARTS
Mailing: P.O. Box 2518
Physical: 1950 Beech Avenue SE
Cullman, AL 35056-1706
Phone
For Rides: 256-734-1246
Fax: 256-736-6450
Route Types
The CARTS buses perform a multitude of routes as follows:
Type A:
Demand/Response: Monday - Friday
---
Type B:
Shopping Routes
City Shopping Routes, where the rider must live within the Cullman city limits. Pick-ups are scheduled for 8am, 10am, or 12 noon on a first come first served basis.

City Shopping Routes are Farebox Rates (see below).
County Shopping Routes:

Monday - Vinemont, West Point, and Jones Chapel areas
Tuesday - Holly Pond, Welti, and Berlin areas
Wednesday - Cold Springs, Dodge City, and Good Hope areas
Thursday - Baileyton, Fairview, Simcoe, Gold Ridge, Colony, Hanceville, Garden City, and White City areas
Friday - Crane Hill and Logan areas
County Shopping rates are $3.00 round trip (which includes 3 scheduled stops) and $.50 per additional stop.
---
Type C:
Contract Routes
CARTS has annual contracts with agencies such as the Cullman County Center for the Developmentally Disabled, Cullman County Commission on Aging, Cullman Area Chamber of Commerce, and others agencies.
Transportation to the following Senior Centers is included in the contract with the Cullman County Commission on Aging:

• Colony
• Crane Hill
• Cullman
• Dodge City
• Hanceville
• Holly Pond
• Jones Chapel
• West Point
---
Fare Structure for CARTS
• 0-7 miles is $2.00, each way
• 7-15 miles is $4.00 each way
• Over 15 miles is $6.00 each way
Disabled and age 60 or older receive a 50% discount on above listed rates.
Riders may schedule up to 3 stops per day (schedule permitting) with an additional charge of $1.00 per stop.
To schedule a ride, Call 256-734-1246 before 2:30pm the previous working day before the date of the ride.
Same day rides will be an additional $2.00 charge and are only sheduled when scheduling permits.
Groups, special events, or special trips that are not part of CARTS regularly scheduled routes must be approved on an individual basis. Due to Federal Charter Regulations, these special trips are very limited. These trips must be scheduled at least a week in advance. Call the CARTS Office for more information or to schedule these trips.