Ms. Senior Alabama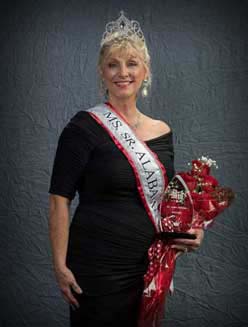 Phyllis Hain
2019 Ms. Senior Alabama
2019 Ms. Senior Cullman County
"I believe that in order to lead a fulfilling life, WE are responsible to fill our hearts, minds and souls with good things, like: the love of God, our family, neighbors, and our country."
"After over four years living and making friends in Cullman, I don't think we could have made a better decision on choice of a new home for our retirement and raising our daughter. Our grandson graduated from Good Hope High School last year and is registered to enter Wallace State College. We are thankful for every day to enjoy life in this peacefull little town."
*The above statements were taken from the Ms. Senior 2019 Cullman County Pageant Contestant Application.